—

Everything you need for your GS in one package.

With our Full Gear Combo for BMW's flagship motorcycle, the liquid-cooled R1200 / 1250GS / Adventure, you'll be ready to tackle any adventure while keeping your apparel dry and dust-free no matter what Mother Nature throws at you.

With a total capacity of over 179L / 47gal (Dry Bags and Packing Cubes not counted), you'll have plenty of space and opportunities to pack and organize your gear in the way that suits you best.


 
—

Why get this Full Gear Combo?
Keep the elements out
The whole system is 100% waterproof & dustproof, no matter how many times you crash or fall over.


Modularity is its strength
You can combine the bags and build your own setup that suits you and your bike best.


Customize your setup
You'll be all set, not only for long travels, but also for your daily commuting and weekend trips, as you can create medium and light setups from this kit as well.


Flawless hardware
Our Headlight Guard will give your headlight the ultimate protection from flying stones and twigs, while our innovative MotoPegs drastically will increase comfort and safety whether you ride on or off the paved roads.
—

The Setup
Outer bags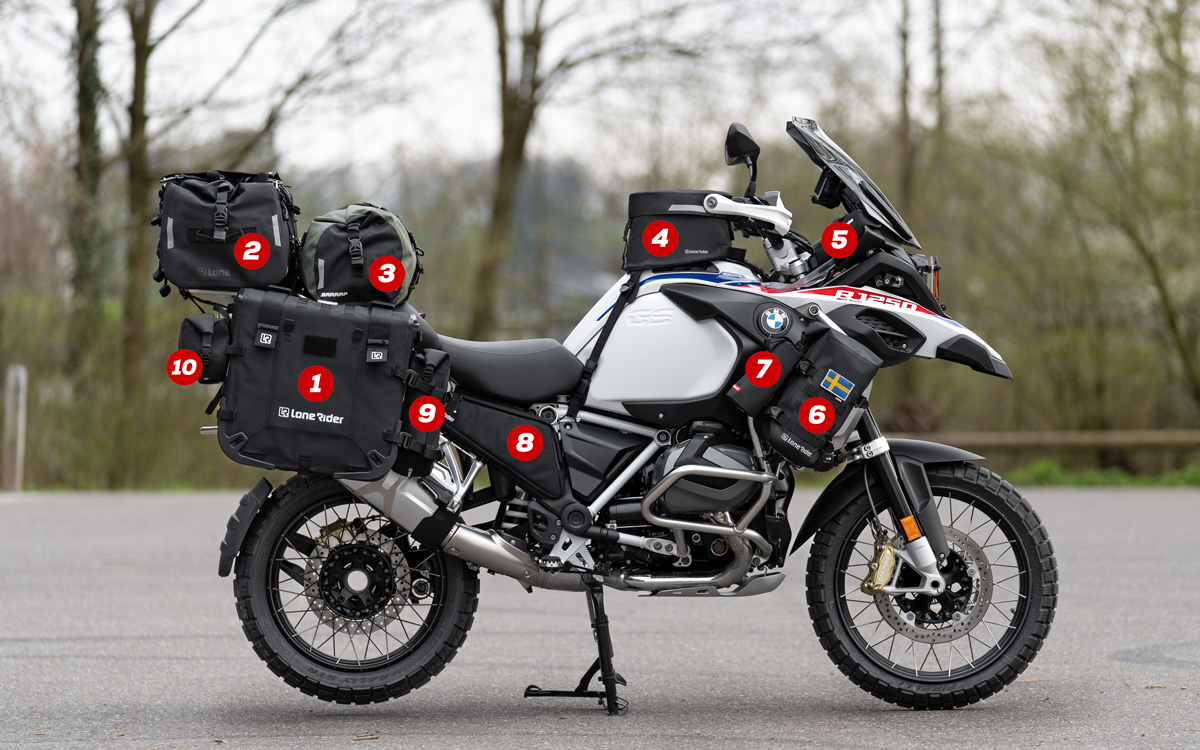 1. MotoBags (31L + 38L set)
The core part of your luggage system, where you also can attach smaller bags on the M.O.L.L.E. panels according to fit your needs. These semi-rigid sidebags have all the features of hard cases, but the safety of soft luggage as they flex when you fall over.

Choose between the Standard version with an integrated Quick Release System that can be adjusted to fit most tubular-shaped pannier racks, or our brand new Rackless version if you ride a BMW GS.

2. Overlander (48L) + Hydration Bladder (3L)
Our most modular bag that replaces a conventional top case and can be carried as a backpack. Just like our MotoBags, the Overlander has a semi-rigid design with a stiffening innerboard which makes it hold its shape even when completely empty.

Inside its "beaver tail" you store the separate Hydration Bladder, a must-have during adventures in hot weather.

3. Explorer (Black 30L)
A great duffel dry bag to expand your luggage capacity by 30L. It carries its own integrated strap system and also has a air release valve for easy closing.
4. Ranger Tank bag (9L)
The Ranger tank bag is 100% waterproof and does not need an additional rain cover to keep your belongings dry. The removable inner lining fastens with velcro and is equipped with 6 mesh pockets to help you organize your smaller belongings.
5. Cockpit Hangry Pouch set (1 left, 1 right)
Need a fast snack or access to charging cables without dismounting from your bike? Store them in these bags!
6. MiniBags (2pcs)
These great accessory bags that hold 6L each can be attached to your crash bars, MotoBags, luggage rack or to your Overlander. Integrated M.O.L.L.E. system for attaching smaller bags or sheaths.

7. Bottle Holder (2pcs)
Keep your drink bottles close at hand. Can also be attached to other bags that have a M.O.L.L.E. panel.
8. Frame Bag set (1 left, 1 right)
Take advantage of the space at your bike's frame. These bags are great to store additional luggage straps / nets in.
9. TallBags (2pcs)
Basically, a MiniBag cut in half size-wise, a bag perfect for our Tool Roll that's also included in this combo.
10. MicroBags (2pcs)
Super convenient bags for fast and easy access to your smaller essentials. Store spare gloves, a power bank, charging utilities and other accessories in them.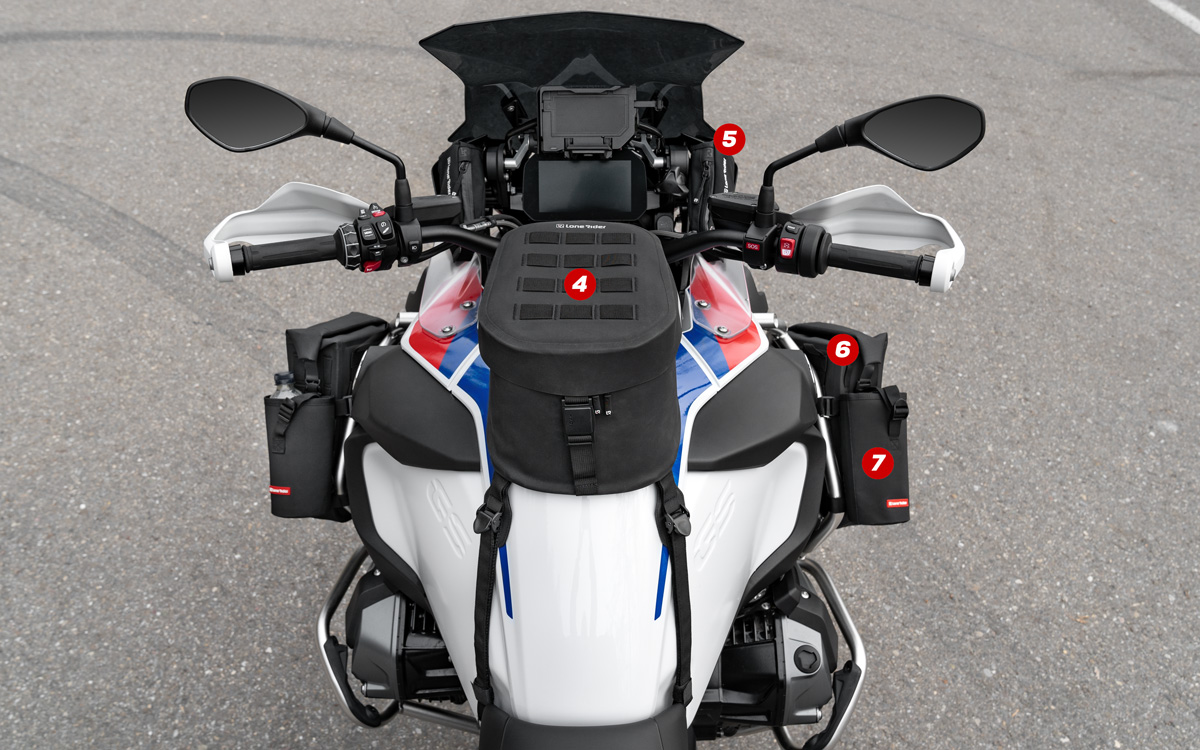 Inner bags
Dry Bags set (10L + 20L)
Perfect for storing smelly, wet clothes and shoes, or greasy tools and towels used during a roadside repair. These bags stop odor cross-contamination and will keep your dirty gear separated from your clean apparel.

Travel Packing Cubes set
Keep your clothes and apparel organized like never before with this 5-piece set! It includes 3 expandable bags, 1 shoe bag and 1 laundry bag. The expandable multi-zip design allows you to adjust volumes and compress bulky clothing – optimizing space and adapting to your needs.

Tool Roll
Keep your tools organized inside our modular Tool Roll. Customize it to your needs with the 4 detachable tube-shaped inner bags. Preferably stored inside a TallBag or MiniBag to keep it dry.

Hardware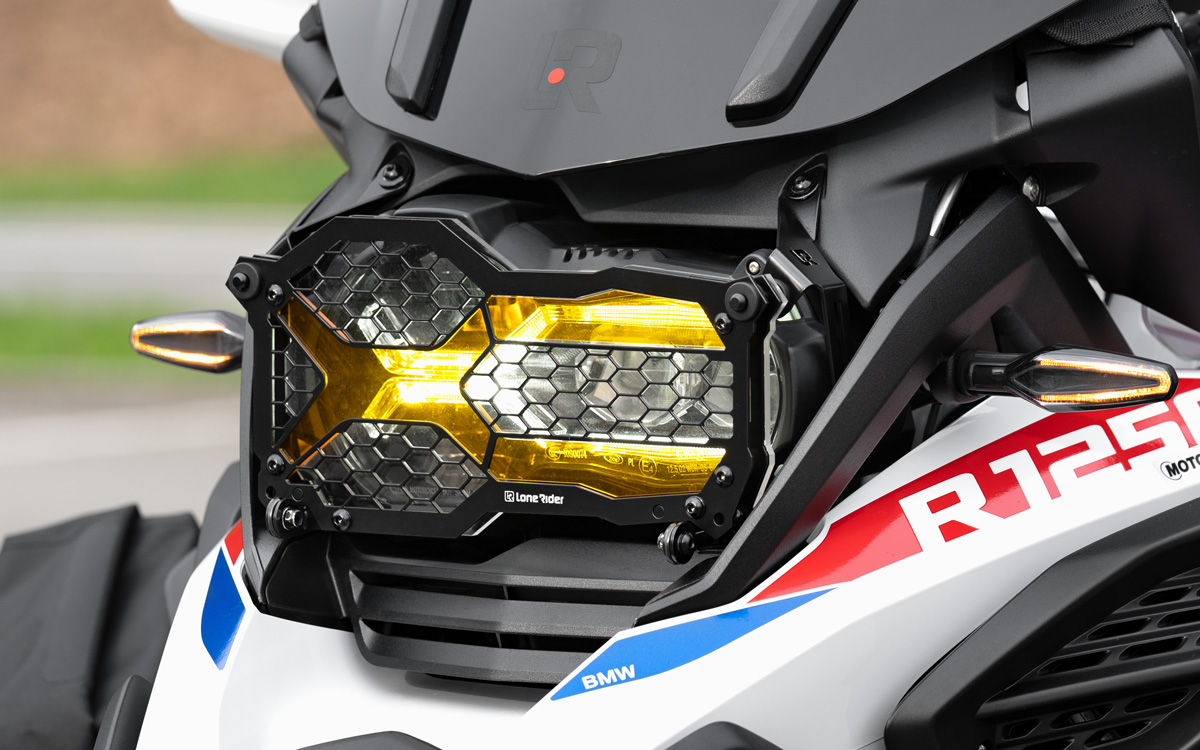 Headlight Guard Kit
Our Headlight Guard is one of the most popular headlight protection products for the GS on the market. It offers a dual protection design, featuring an outer grill that stops larger stones and twigs, while the inner lexan shield takes care of the rest.

It's highly modular and very easy to install and clean. It can be detached from your bike in seconds if needed, thanks to its snap-on design.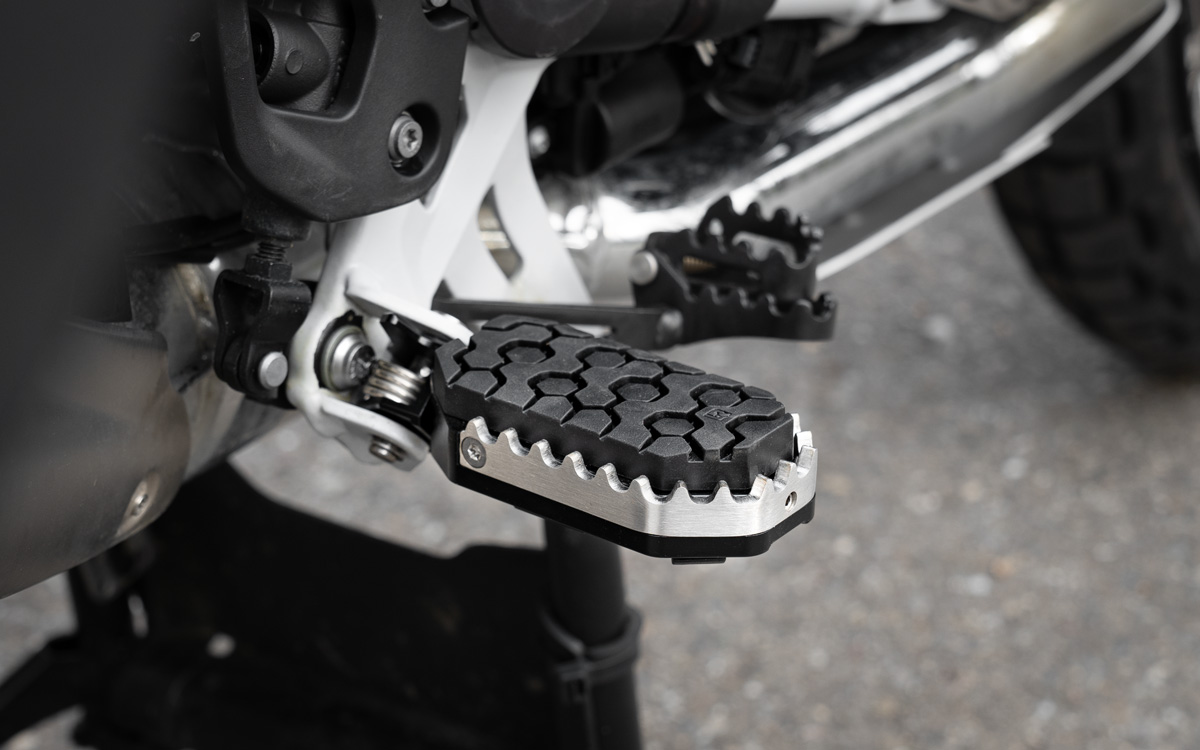 MotoPegs®
The MotoPegs® offers a unique and patented design that allows you to adjust the rotation resistance in more than 12 steps thanks to the rubber control pins that come in 3 different densities. You can also choose to have the foot pegs fully fixed (non-rotating) by replacing the rubber control pins with the included plastic pins.

And gone are the days when you needed a socket or screwdriver to remove or reinstall the rubber insert. Ours snap into place with just one hand and can be removed as quickly.
—
Complete list of gear
The "Full Gear Combo for BMW R1200 / 1250GS / Adventure" consists of:
— 1x MotoBags set 31+38L (Standard or Rackless) incl inner bags & accessories
— 1x Overlander bag 48L
— 1x Hydration Bladder 3L
— 1x Explorer Duffel Dry bag 30L Black
— 1x Ranger Tank bag 9L
— 2x MiniBags
— 2x MicroBags
— 2x Bottle Holders
— 2x TallBags
— 1x Travel Packing Cubes set
— 1x Dry Bags 10+20L
— 1x Tool Roll
— 1x Frame Bag set
— 1x Cockpit Hangry Pouch set
— 1x Headlight Guard Kit (Horseshoe or X model)
— 1x MotoPegs® set